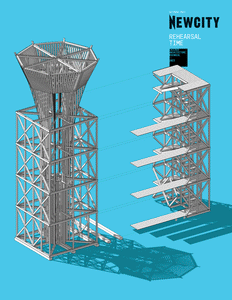 October 2023 Issue: Chicago Architecture Biennial (Digital Edition)
Not Afraid to Be Disliked
A conversation with Rachel Shteir about her new biography of Betty Friedan
"Rachel Shteir is head of the Dramaturgy and Dramatic Criticism program at the Theatre School at DePaul and the author of three acclaimed books. Her latest, "Betty Friedan: Magnificent Disrupter" is a dynamic biography of the woman who wrote "The Feminine Mystique," the 1963 bestseller that gave middle-class women a language for their unspoken dissatisfaction and oppression." (Rachel Jamison Webster)
Still Crazy After All These Years
The Veeck family is a saga of triumph, tragedy and fun. Always fun.
"The Veeck family is as Chicago as big shoulders. It was daunting for Mike Veeck to grow up in the shadows of Bill Veeck. His father was a cultural giant who once signed a little person to bat in a baseball game and also marched in Martin Luther King Jr.'s funeral procession on his wooden leg. He lost his right leg in a 1946 accident with the Marines but made the best of a lousy situation. He carved an ashtray into that wooden leg." (Dave Hoekstra)

Rehearsal Time: Chicago Architecture Biennial 2023
Hallucination About the World: How Floating Museum curates an architectural biennial
"As the stewards of the Biennial, they now have even more terrain upon which to plot, play and plug in. More space means more work and a month and change away from the opening of the Biennial, the collective is deep in the thick of it. Back at Floating Museum HQ, I join Hulsebos-Spofford, Majeed, Schachman and Perez (who runs programming) for their weekly meeting in the small vestibule-slash-office space of their building, where a conference table, saggy couch and clutch of mismatched chairs jostle for space." (Alison Cuddy)
Dry Run: Why Feda Wardak is building a waterless water tower in Englewood
"But this fall, French Afghani architect Feda Wardak is creating a water-related structure in an area tourists don't usually visit—the South Side neighborhood of Englewood, as part of the future Englewood Nature Trail. Wardak will be building three, fourteen-foot wooden structures, which he hopes to eventually combine as a single forty-two-foot-tall water tower to sit on top of a disused elevated rail line." (Mary Wisniewski)
The Grand Dame Returns: Joe Mansueto puts on the Ritz with the Belden-Stratford
"Today, it may be hard to comprehend just how big a role residential hotels played in the lives of Chicagoans and other city dwellers around the United States. The Belden-Stratford was one of a string of hotels developed by Gustav Gottschalk, a Milwaukee-born livestock broker who moved to Chicago to buy land and build. By the early 1920s he was building a string of large residential hotels in Lakefront neighborhoods." (Ted C. Fishman)
Space for Storytelling: A proposal for an unrealized film set
"Although we had not ventured into movie-set design, we believed that architectural spaces serve as stages for human activity and platforms for projected meaning. Isn't that, after all, the purpose of film sets? Prior to knowing a film producer, the world of filmmaking seemed so distant. It was certainly not a potential domain for our architectural inquiries. Once we did know some producers? We wanted in." (Stewart Hicks and Allison Newmeyer)
The Embodied Politic: Solange, RoboCop and the city hall ideal
"A sixty-eight-foot mass of concrete, jutting forward in an inverted half-pyramid, cantilevers over rows of dancers, dwarfing them—even by the dozens. Dallas City Hall looms large in "Things I Imagined / Down with the Clique," literally but also figuratively: I.M. Pei's iconic building grounds an ambitious collage of footage, in a video which cuts rapidly between cities, scenes, figures and geographies." (Theodore M. Anderson)
Concrete Faith: How the creation of the Bahá'í House of Worship changed the course of architecture
"For the small collection of American adherents of the newly established Bahá'í faith, concrete turned out to be the only material suitable for the monumental backward- and future-focused house of worship they envisioned on the shore of Lake Michigan in Wilmette. The temple, a masterpiece of intricate, shimmery, seemingly delicate decoration, pioneered concrete construction techniques that changed the way the world sees and uses the material." (Ted C. Fishman)
Arts & Culture
Art: Fifty years of art and feminism at ARC Gallery

Dance: Joffrey's epic and empathetic take on "Frankenstein"

Design: It's Dan Friedman's world
+ Mood: Floor Lamps
Dining & Drinking: Pulque, what we should be drinking on Day of the Dead 
Film: Matt Singer is talking about Siskel & Ebert
Lit : Holly A. Baggett talks about "Making No Compromise: Margaret Anderson, Jane Heap and the Little Review"
Music: Cut Worms makes ear worms 
Stage: The 312 Comedy Festival makes the city laugh
+ The legacy of Louis Armstrong in a new musical


Reviews
Now we're in the thick of it…
Comics
House Calls: A new comic by Anya Davidson
Poetry
Power: A new poem by Reginald Gibbons
100 PAGES
Never miss another issue!