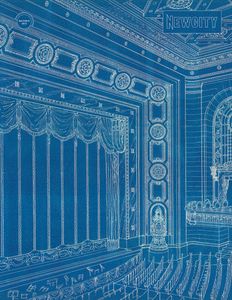 November 2023 Issue: Fine Arts (Print Edition)
Regular price $12.00 Sale
Enduring Art
After 125 Years, the Fine Arts Building Is Defiantly Unmodernized and Ready for Its Next Act

"
Every building hides a world behind its doors—even blank-faced office blocks have a history and a social life—but perhaps no Chicago building hides more worlds than the Fine Arts Building. 
Located at 410 South Michigan Avenue between the broad shoulders of the Auditorium Building and the Chicago Club, the Fine Arts Building celebrated its quasquicentennial anniversary last month in style, with an open house, free concerts, gallery showings and workshops." (Keir Graff)
Arts & Culture
Art: Candace Hunter delivers portals to change
+ Deborah Maris Lader knows how birds fly
Dance: A "Jungle Book" for the age of climate change

Design: Bruce Woods' threaded elegance
+ Mood: Tabletop

Dining & Drinking: Splendid sandwiches for post-Turkey day
Film: Checking in on Black Harvest
Lit: Documenting  the disappearing mom-and-pop shop 
Music: Jeff Tweedy's personal playlist
Stage: Melody Betts eases down the road
Reviews
A sampler of our daily delivery
P

oetry
"VACUNA I": 
A new poem by
Natasha Mijares
100 PAGES
Shipping is included in the price.
Never miss an issue!