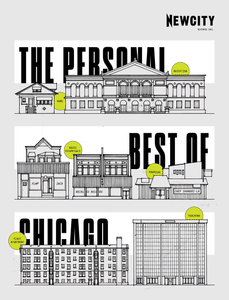 November 2021: Best of Chicago
Regular price $10.00 Sale
Best of Chicago
How do we celebrate a city in the second year of a still-raging pandemic?
This was the challenge we contemplated when planning our twenty-ninth Best of Chicago edition. In normal times, we've offered hundreds of recommendations of places to eat, to shop, to experience. 

But these are not normal times. Our experience of life over the past year, if we've managed to survive, has been collectively so similar—we've stayed home, we've worn masks, we've gotten sick, we've gotten shots—but our response to that experience has been so different. Some have dropped out of unfulfilling jobs and changed careers, while others have developed a heightened appreciation of the things they cherish, whether friends and family, the natural world or that little mom-and-pop restaurant on the corner that has managed to make it through so far. Not taking life for granted is imprinted on us all, likely for the rest of our lives.
It's just so personal.

So for this edition of Best of Chicago, we decided to make a radical break from our usually highly structured format and invited fourteen writers to share their "personal Best of Chicago."
—From the editors letter written by Brian Hieggelke

Here's a sampling of what's inside: 
" Riverview, like cotton candy, vanished in an instant, but there is not a time—not a single time—that I don't drive by the intersection of Western and Belmont and hear in my mind's ear the park's famous spokesperson-huckster, Two-Ton Baker, beckoning us all to 'Laugh your troubles away… at Riverview!'" (David Hammond)
"True to the Peter Pan reference they were named after, they see fashion as a never-ending adventure: from in-town pop-ups to cruising with style across the country, and from a mobile vintage store, to two brick-and-mortar homes, one in West Town and another in Logan Square." (Vasia Rigou)
" In the 1800s, the Pokagon Band of Potawatomi Indians were forced to give their land up to the shorefront of Lake Michigan; since that time, landfill has greatly expanded Chicago's Lakefront footprint, which now includes some of the most valuable land in the city." (Kerry Cardoza)
" I grew up three blocks north, and as a child I was afraid to venture anywhere nearby, because the older kids told me 'The Mummy' lived there and he would come out at night and kidnap children and drag them to his tomb." (David Witter)
"Paradoxically, I find it the best place for people-watching anywhere in the city. There's something about placing someone in a communal setting with their dog; the manner in which the owners conduct themselves is starkly, and often comically, revealing of character." (Robert Rodi)
"What did the eyes of the Great Migration see when they landed on this spot? Was there excitement and fear like the first time you fell in love? Did they bring the family Bible and a friendly guitar? Did they hear Marian Anderson sing 'Oh! What a Beautiful City' (1940) with three gates in the east and three gates in the west?" (Dave Hoekstra)
"By day, Dilla works at ComEd as an area operator, and on nights and weekends, he transforms into a one-man history channel where he breaks down stories about Chicago on TikTok sixty seconds at a time, neighborhood by neighborhood." (Tanner Woodford)
"But its rhythms and rumble may have gotten in my bones. Not a few late nights I've involuntarily dozed on the train ride home, only to spring up at the exact moment the doors opened to my stop. Or maybe each stop has its own unique scent that a longtime rider picks up and can follow home?" (John Moss)
"She is laughing and with her head turned, oblivious: a frame of classical beauty caught in the spill of light for an instant and then as indelible memory. He bleeds." (Ray Pride)
"There's the old idea of Socratic ignorance in which true wisdom is knowing the vastness of what one hasn't learned. That wisdom is easy to come by while fixed on any of the variety of herons in the lagoon, up close through the lens, as it stands all but motionless in the water." (Ted C. Fishman)
"Mostly, people think of us as street urchin-like figures, best overlooked as you make your way, part of the regular background noise of labor happening to resupply the city—a nobody." (Michael Workman)
"Since I couldn't go home, I brought a little bit of home to Chicago by bringing people together to learn about and celebrate Ghanaian independence from British colonial rule. Together, Amy and I were able to locate Grace African, a small family-owned Ghanaian restaurant that catered my event, which ended up being a huge success!" (Kekeli Sumah)
"Necessary and sufficient infrastructure, as they say in math, creates the conditions for a thing to thrive, be it commerce, children, or the arts. It's a thing we don't think about until it's broken or absent, mostly invisible when it's working as it should." (Sharon Hoyer)
"…from seeing Stevie Wonder and the Jackson Five (with Michael) at the Amphitheatre on 43rd and Ashland during Black Expo from hugging and consoling Father Pfleger before he presided over Tyshawn Lee's funeral from coming to my mother's house one evening to see her vetting a then-young potential state senator named Barack…" (Scoop Jackson)
Waste Not? 

Artists grapple with sustainability at the Hyde Park Art Center
"As an artist-in-resident at the Hyde Park Arts Center in 2017, Lan Tuazon was making a series of sculptures out of plastic containers when she first proposed the idea of constructing a house entirely from recycled materials. This fall, the Chicago-based artist's vision has come together in 'Future Fossils: SUM,' an art installation in the form of a one-bedroom home. Keeping in mind the estimate that the average person in America generates 109 tons of waste over the course of their lifetime, Tuazon's project purports to explore the ecological question of how humans can use raw materials sustainably so that the materials perpetually recirculate, rather than the extractive or linear ('take-make-waste') way we use resources now." (Nancy Chen)
Arts & Culture
 Art: Rethinking feminist icon Hannah Wilke
Dance: Hubbard Street Dance is back on stage

Design: Art Golf is back in Elmhurst
+ Mood: Pillows

Dining & Drinking: Brian Duncan shares somme wisdom
Film: Bad Luck In Bucharest
 Lit : Anne Elizabeth Moore learns there's no such thing as a free house
Music: Who needs to listen to Chvrches and Guided By Voices?
Stage: The World According to Garth: Drabinsky returns to Chicago with Paradise Square


Reviews
An expanded selection of reviews this month!
92 pages including cover.
Shipping is included in the price.