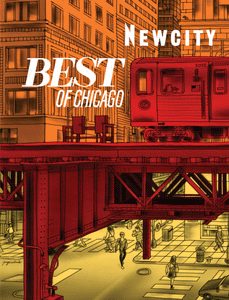 November 2017: Best of Chicago
Regular price $10.00 Sale
For 25th anniversary of Best of Chicago, we the essayists in our original edition to revisit Chicago today. 
Hope and Disillusion: Chicago Helped Me Grow Up by Dale Eastman
Indivisible Landmarks: The Signs of the Street Clinging to its Character by Ray Pride
Never A Stranger: Eight Cities On, Chicago Remains My True Love by Stephen Rodrick
Pictures with Bite: Is Chicago the Hollywood of Food Photos? By Ted C. Fishman
And a cover by our art director in 1993, Jorge Colombo, paying subtle homage to Chris Ware's original cover
Plus Best of Chicago items in City Life • Culture & Nightlife • Food & Drink • Goods & Services.
+ Art/Dance/Design/Dining & Drinking/Film/Lit/Music/Stage and the latest "Life is Beautiful" comic.
Shipping is included in the price.