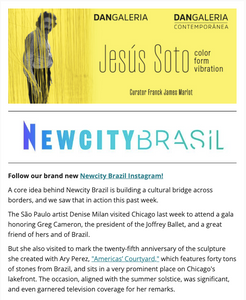 Newcity Brazil Art Letter Email Newsletter Advertising
Regular price $100.00 Sale
Order and pay for advertising on Newcity Brasil Art Letter here. We feature only one advertiser per newsletter, and weeks are marked "sold out" when purchased.
Simply use the pulldown menu to choose your date. You can purchase multiple weeks or lists by adding them one at a time to your shopping cart.
After placing your order, you'll need to send an ad artwork file in before the artwork materials deadline which is currently the Wednesday prior to the week you've purchased. 
Newsletter ads should be 600 pixels wide x 250 pixels tall. Maximum file size is 120k. 
Please send everything to advertising@newcity.com.
If you'd like more information about Newcity Brazil, visit our About page here. 
Estimated Subscribers
Newcity Brazil  Art Letter Monthly 1,250