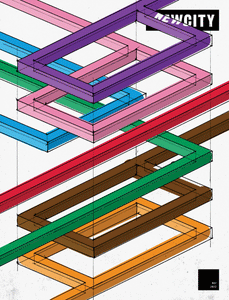 May 2022 Issue: El (Print Edition)
Regular price $10.00 Sale
Flea Bitten
Waking up at Wolff's Flea Market
In 1978 my mother unceremoniously threw away my "The Six Million Dollar Man" Parker Brothers board game. This bitter memory comes to me at 4:30am Halloween morning as I stand in the brisk dark of Wolff's Flea Market. It is the last day of the season, and there on a table before me lies a well-used "The Six Million Dollar Man" Parker Brothers board game. I ask myself, "Should I buy it?" (Patrick Roberts) 
Heaven Can't Wait
Equity Arts aims to reestablish Wicker Park as an arts hub
Equity Arts is embarking on a capital campaign to raise $5 million. The vision for the building is to house artist studios or art organizations in the six upstairs lofts, with a rooftop greenspace and two anchor businesses, such as a retail space and a venue, on the ground floor. It will also offer an entrepreneurial incubator on the first floor. Eric Williams, who runs the Silver Room, and Ed Marszewski have signed letters of intent. (Kerry Cardoza) 
El of a Night
Twelve hours on the Red and Blue Lines
While I ride CTA trains, mostly the Red Line, a few times a week, I was interested in getting a better sense of what conditions are like on the El at other times of the day. So I hung out on the Red and Blue routes from 5pm to 5am, partly inspired by the legendary "This American Life" "24 Hours at the Golden Apple" segment, recorded at the longtime Lincoln Park diner. I'd take food, drink and bathroom breaks along the way. (John Greenfield)
That Happy Me From Gary
Tina Jenkins Bell's Chicago story
"I had self-confidence and a strong perception of myself because when I was growing up in Gary, everybody who was somebody was Black. I saw who I could be and more. The sky was the limit. And I think having grown up with a strong idea of who I was, race never came into play. My mother never really talked about it. She was into hierarchy. That means that if she had a disagreement with someone, she'd try to work it out." (Shawn Shiflett)
Tattoo You
A mother-daughter memory by Summer Pierre
Arts & Culture

Art: An antidote to turmoil in Jackson Pollock's "The Key"
Dance: Chicago Danztheatre Ensemble gathers thirty artists and groups
Design: A Mies van der Rohe redux in Indiana

Mood: Table Lamps

Dining & Drinking: Nine classic foods of New Mexico
Film: Fairytale "Petite Maman"
Lit : Jeff Deutsch of the Seminary Co-Op talks about his new volume
Music: Chicago's New Music scene in transition
Stage: Is Terry Guest's "The Magnolia Ballet" fable or parable?
Reviews

A curated few

Poetry
Love Poem: A new poem from Travis Nichols

76 pages
Shipping within the United States is included in the price. For Brazil, add $20 for international shipping.

To subscribe to our print edition and never miss an issue, click here.