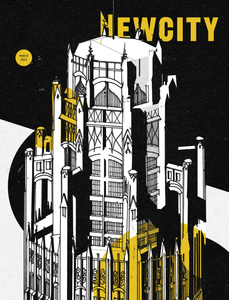 March 2021: Media
Regular price $10.00 Sale
Chicago Social: Sam Cushing Takes the Windy City into the Influencer Realm
With a blend of content ranging from LGBT topics to fitness to mental health to a burgeoning music career, Sam Cushing has put the city on the map in the social space. Starting out on Instagram when he was living in South America a scant three years ago, Cushing has expanded his range to YouTube with videos that discuss his experiences and offer advice on everything from exercise routines to travel. Cushing is at the vanguard of a new brand of influencer: socially aware but relatable and sweet. — By Richard Pallardy
The Good Fight: An Interview with Haki R. Madhubuti on "Taught By Women"
"When I first met Gwendolyn Brooks, she was in a church on the South Side of Chicago, in Woodlawn, teaching Blackstone Rangers to write poetry, working with the great entertainer, cultural activist and pre-rapper, Oscar Brown Jr. I gave her a copy of 'Think Black,' and 'Think Black,' the first cover, it's all white with Africa in the middle. This is 1967, you know. And she took it and put it on her heart. And she said, 'Thank you, young man, I'm gonna read this.' And we parted. Within two weeks, she had moved the workshop to her home at 7428 South Evans Avenue. And we started meeting at her home. But my point is that she recognized the unfinished Don Lee, to become Haki Madhubuti." — By Donald G. Evans
The Tower Is Crumbling: What the Decline and Fall of the Chicago Tribune and the Shattering of Local Media Means
In 1986, the year we started Newcity, the almighty Tribune Company dominated all local media from a gothic tower, presiding over the Magnificent Mile like the lord of Chicago it was. It had been a momentous decade for the company, founded back in 1847, marked by the expansion of its Tribune Broadcasting division into the WGN "Superstation" that would cross the nation, the purchase of the Chicago Cubs in 1981 and the company's initial public offering in 1983. This last event allowed the company to more easily raise capital to expand its empire, but also meant that its longtime family ownership under the heirs of Joseph Medill, who'd owned it since 1855, would increasingly be diminished in influence. Although no one thought so at the time, it would prove to be portentous. — By Brian Hieggelke
+ A sample of media diets from a wide swath of Americans
+ Print exclusive: A "mood board" of furniture from local designers and boutiques.
Art: Artist collectives grapple with environmental crises
Design: Kollektif brings together independent designers from across the world
Dining & Drinking: Joe Flamm brings Croatian cuisine back with Rose Mary
Film: "The Last Shift"'s life after Sundance
Lit: Rebecca Morgan Frank and her "Oh You Robot Saints!"
Music: Sunshine Boys celebrate a new album—one year on
Stage: Devising a show about Chicago life in lockdown
+ Reviews: Yes, the culture is carrying on...

Shipping is included in the price.

To subscribe and never miss an issue, click here.