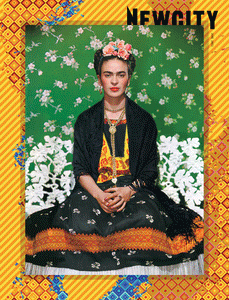 June 2021: Frida
Regular price $10.00 Sale
This Is Who I Am
The Story Behind the Largest Presentation of Frida Kahlo's Works in the Chicago Area in Forty Years
" 'She's relevant today, progressive in her thinking. She broke boundaries all the time, on so many different levels, including her fashion style. She never was afraid to carve her own path, present herself as who she was, and explore things like sexual identity, fashion and art. That's why people gravitate toward her, because she was unapologetic. There's something about her that is very liberating.' " (David Hammond) 
The Conversation
Claudia Flores makes the case for police reform
" Too much force. None of the twenty largest cities in the United States meet international human rights standards on police use-of-force policies. Claudia Flores, Director of the Global Human Rights Clinic at the University of Chicago Law School, tells us why and what can be done about it. " (Monica Kass Rogers)

A Living Institution
The South Side Community Art Center is a force in African American Art
"On the near South Side of Chicago, on the 3800 block of South Michigan Avenue in the historic Bronzeville neighborhood, is a beautiful Classical Revival building that, for just over eighty years, has housed a community-based organization dedicated specifically to Black artists: the South Side Community Art Center. The artist, curator and former executive director Faheem Majeed describes the Center as a microcosm of the Black art world and of Chicago's South Side. For eight decades, this art center has championed the work of African American artists while serving as a gathering space for not only artists, but the broader South Side community." (Alissa Swindell)
Margo Flats
In which the rescue dog Eleanor brings joy and heartbreak
An original ten-page comics story by Margaret Flatley. A print exclusive. 
+ Print exclusive:
A "mood board" of cocktail accessories from local designers and boutiques. 
Arts & Culture
Art: Multidisciplinary artist Zehra Khan embraces the spontaneous

Design: Shopping at Ponnopozz Studio is a smile

Dining & Drinking: Chef Jonathon Sawyer reimagines the everyday at Adorn Bar & Restaurant 
Film: Christian Petzold's mythical romance "Undine"
Lit: Exploring the legacy of cartoonist Bill Mauldin
Music: Alligator Records and its fifty years of sizzling blues 
Stage: How the Map of Now gamifies the Virtual Performance Festival
Reviews
It's time to get out and see some art!
Shipping is included in the price.

To subscribe and never miss an issue, click here. (If you do so by May 23, 2021, this will be your first issue.)