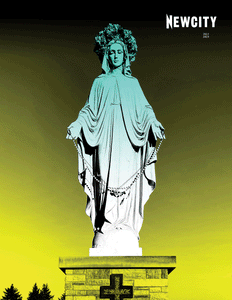 July 2023 Issue: Mary (Print Edition)
Regular price $12.00 Sale
The Fire Right Now
Gary Simmons fights the power at the MCA
"Since the late 1980s Simmons has played a key role in situating questions of race, class and identity at the center of contemporary art discourse. Drawing heavily on popular genres such as hip-hop, cult horror, cartoons and science fiction, he exposes and analyzes histories of racism deeply rooted in the U.S. visual culture. Sports, cinema, literature, music, architecture and urbanism—nothing is off limits in Simmons' effort to make a point: the perpetuation of white supremacy is alive and well." (Vasia Rigou)
Hoosier Savior?
A sort-of Christian theme park in Indiana
"The shrine is an impressive sight, built with roughly 200 semi-truckloads of boulders from Wisconsin, used to create a Holy Land-like landscape. Over a thousand trees and bushes were planted. There are fifteen Stations of the Cross featuring forty life-sized bronze sculptures by Texas-based artist Mickey Wells, each weighing 300 to 700 pounds.There's dramatic background music and lighting at night. And each tableau has a push-button speaker that emits rich basso narration by legendary CBS Channel 2 anchor Bill Kurtis, also of 'Anchorman' and 'Wait, Wait… Don't Tell Me!'
fame." (John Greenfield)
The Mass Menagerie
The connection between suburban TV pioneers Bruce and Claire Newton and Al Capone, Garfield Goose and Soul Train
"The phone booth is now a prized interactive artifact at the Mob Museum (National Museum of Organized Crime and Law Enforcement) in downtown Las Vegas. During the mid-1960s the wooden phone booth was salvaged by Bruce and Claire Newton of west suburban Aurora. The Newtons were television pioneers who entertained a generation of baby-boomer children in Chicago. They worked with the popular Garfield Goose puppet and designed the earliest studio sets for the 'Soul Train' television show." (Dave Hoekstra)
Walking Speed
A curator's tour in Louisville
"It was Al Shands' wish that the contemporary art collection he and his late wife, Mary, amassed at their Great Meadows estate in Crestwood, Kentucky be displayed in a public exhibition before being dispersed to museums across the state. In this way, he sought not only a closure to the collection's life at Great Meadows, but also a bridge to the works' future lives in other contexts. Shands, a former Episcopalian priest, hoped to stage an exhibition that would be dynamic but also contemplative—a place where museum visitors could be inspired to explore what meaning the works could spark in their own lives." (Megan Bickel)
Ms. Maestro
Is Marin Alsop next at the CSO?
It could be argued that the CSO would miss an extraordinary opportunity if they didn't—or already haven't—asked Alsop to be their next music director. Aside from the fact that this would be only the third time that a major American orchestra would have a woman music director—Alsop's 2007-2021 stint with the Baltimore Symphony Orchestra was the first—the CSO has never had an American music director in its 123-year history, let alone a female music director. (Dennis Polkow) 
Arts & Culture
Art: Sub-Saharan art reassessed
Dance: Don't close your eyes on Physical Theater Festival Chicago
Design: Kazuki Guzmán's minimal, playful and somewhat Japanese aesthetic
+ Mood: Patio Life
Dining & Drinking: Heirloom corn whiskey is history in a bottle
Film: A Fassbinder fascination
Lit : Nishanth Injam's journey to "The Best Possible Experience"
Music: Put the pedal to the metal
Stage: Congo Square Theatre charts a radically expansive future
Reviews

How to spend summer days and nights
Poetry
Moving In: A new poem by Elizabeth O'Connell-Thompson

84 pages
Shipping within the United States is included in the price. 

To subscribe to our print edition and never miss an issue, click here.