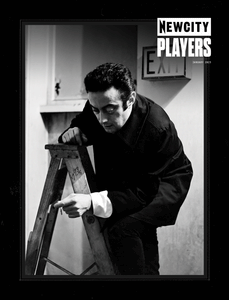 January 2023 Issue: Players 50 (Print Edition)
Regular price $12.00 Sale
With Flying Colors
Design flair from the Chicago Fashion Incubator
"What if 'Sex and the City' happened in Chicago? And what if we had undergone a major paintball attack? This fashion editorial created by the Chicago Fashion Incubator is here to help us answer those pressing questions. Wardrobe stylist Sal Yvat had the challenge of creating a cohesive aesthetic while mixing garments from eight different designers-in-residence at the CFI. 'I was inspired by New York City and how simple yet detailed people dress. I thought a lot about Carrie Bradshaw.' The background for the photos couldn't be more dopamine-inducing: Color Factory, an interactive art experience in the Willis Tower." (Isa Giallorenzo)
A Cheerleader for Artists
Monique Meloche's secret weapon is optimism
"Talking art with Chicago gallerist Monique Meloche is an exercise in keeping up. Walking me around her exhibition with Arvie Smith last fall, Meloche sped from one idea to the next, her thoughts tumbling out in quick succession. How she was 'stopped in her tracks' by the eighty-four-year-old artist's 'beautiful, sexy paintings.' Her appreciation for his 'explosive and electric use of color and luminosity.' Where she sees a hint of the 'acid green glow' of Toulouse-Lautrec's nightlife or some of the 'vibe' of Robert Colescott, a Smith contemporary, in the work." (Alison Cuddy)
Chess Match
Fleetwood Mac had a big Chicago day in 1969, and Jeff Lowenthal was there.
"Chicago photographer Jeff Lowenthal was in the Ter-Mar Studio in January 1969. He was known for photographs of jazz greats like Duke Ellington and Dexter Gordon. Lowenthal had taken portraits of Nelson Algren at the author's Wicker Park home and comedian Lenny Bruce at the Gate of Horn. He had been freelancing for Chess Records. Marshall Chess had hired Loren Coleman, the company's first-ever PR person. Coleman worked for the JUF News, a newspaper published by the Jewish United Fund, which is how Coleman knew Lowenthal. And Lowenthal fired away with his Leica all day at the Fleetwood Mac blues session. He deployed about ten rolls of black-and-white film and three rolls of color." (Dave Hoekstra)
Players 50 2023
Who really performs for Chicago right now
"The continuing fallout from the pandemic combined with the MeToo movement and racial reckoning has meant the end of venerable companies and careers alike this past year. And still, the challenge of bringing audiences back from a hiatus wrought by concern for public and personal safety that has resulted in changed habits imperils nearly everyone who relies on an audience. But the spirit of art on our stages is undaunted, the quality of work unsurpassed. If there is any reason for hope, that is it. There has never been a better time or a better place to advance the conversation with the human soul in the singular voice of a solo performer or a troupe of players." (Brian Hieggelke)
Arts & Culture
Art: Edra Soto is everywhere right now

Dance: Chicago International Puppet Theater Festival returns
Design: Mid-Century meets contemporary design at Who Modern
+ Mood: Dining Tables

Dining & Drinking: Local taverns where good times have rolled for a very long time

Film: The attention span of life
Lit: Iliana Regan cooks up another memoir
Music: Tan Dun's Crouching Tiger Suite and other January delights

Stage: Marissa Lynn Ford talks about plans for the League of Chicago Theatres
Reviews
It's a new year but we've got some things from last year not to be missed
Poetry
"Snow Shine," a new poem from Sylvia Ewing
92 pages
Shipping is included in the price.