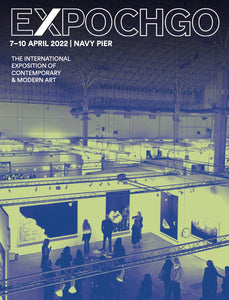 EXPO CHICAGO 2023 Official Guide
Regular price $1,916.00 Sale
Pay for print advertising in the Official Guide to EXPO Chicago here.
Published in March, the Guide is distributed on-site at the fair, bundled with the April Breakout Artists edition of Newcity, inserted into an issue of the New York Times Sunday edition (Chicago-area subscribers), and street-teamed to select cultural and art institutions in the region.
Simply use the pulldown menu to choose your size. The price will be displayed. You can purchase multiple ads by adding them one at a time to your shopping cart.
Sending Artwork: After placing your ad, you'll need to send an ad artwork file in before the artwork materials deadline.  For detailed production specifications for ad files, click here.