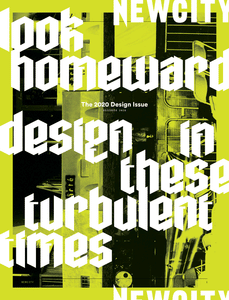 December 2020: The Design Issue
Regular price $10.00 Sale
The Revolution Starts Here
"We didn't want to make commercial art. We didn't want to participate in a market system. We didn't want to make luxury goods. We wanted to make culture and try out ideas."
Months of protests following the latest wave of police murders and major disruptions due to the pandemic have led to renewed calls for structural change in the art world. Institutions large and small are asked for greater transparency, for real equity. Teen groups are asking museums to divest from relationships with police. Students are demanding schools hire more BIPOC faculty to teach courses that aren't white-centric. In Chicago, many cultural workers, collectives and organizations already operate in radically equitable ways. In their own words, folks from Arts of Life, Temporary Services, the Prison + Neighborhood Arts/Education Project and Black Futures talk about the ways they are building the world they want to see.

The Design Issue: For Chicago by Chicago
Finding the Available City: A Conversation with 2021 Chicago Architecture Biennial Artistic Director, David Brown
"The 2021 edition will focus on community organizations, residents and designers from around the world working generatively to develop ideas for other collective spaces that are potentially equal to the number of city-owned vacant lots. That's more than 10,000 collective spaces, and the properties of each could differ in response to the missions and ideas expressed by community organizations and residents in neighborhoods where the lots are prevalent working collaboratively with designers."
Mood: Textiles—Home inspiration for walls and floors from one-hundred-percent Chicago sources.
Featuring David Salkin, Bob Faust, The Weaving Mill, Studio Herron, Relativity Textiles, Moira Quinn, and Zoe Feast
Designers in Conversation: All Chicago, all BIPOC, all exceptional
Norman Teague, Blkhaus Studios: "With love and labor, design will make strategic moves to reinstate the small business within the American Dream."
Yohance Joseph Lacour: " One day, I'm designing prototypes to appeal to the masses, and the next day I'm crafting one-of-a-kind pieces solely to express myself during this sociopolitical reckoning."
Milton Latrell, Agriculture: "We design looks based on how we think a guy should enter the room, wearing fine timeless attire while accessories are the finishing touches, just like designing a home."
Elijah McKinnon, People Who Care: "We are at a pivotal point where all of the traditional design elements that have been celebrated throughout history are being questioned and interrogated. Who created these principles? Why do these limitations exist? How do we dismantle these structures?"
Viviana Langhoff, Adornment + Theory: " My designs are pieces people will wear everyday, and God willing, will pass down and remain heirlooms in their families. I don't take that lightly.:

Gifts Gifts Gifts for the design-obsessed.
Shop local, for your loved ones, or yourself, with six pages of images and ideas. 
 + Art/Design/Dining & Drinking/Film/Lit/Music/Stage
Shipping is included in the price.
To subscribe and never miss an issue, click here.