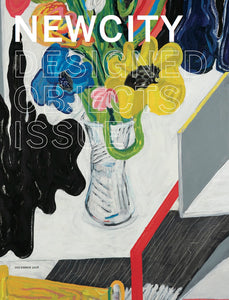 December 2018: The Designed Objects Issue
Regular price $10.00 Sale
Designed Objects, guest edited by Rick Valicenti and Thirst.
Nine designers pick nine designers you should know:
Sung Jang/TJ O'Keefe • Holly Hunt/Neil Zuleta • Martin Kasner/Abigail Glaum-Lathbury • Steven Haulenbeek/Pete Oyler • Norman Kelley/Benjamin Edgar • Felicia Ferrone/Christopher Gentner • Tim Parson and Jessica Charlesworth/Michael Savona •  Mark Kinsley and Tamera Leigh Staten/Luke Wong •  Ania Jaworska/Jennifer Hoffmann
+ Art/Dance/Design/Dining & Drinking/Film/Lit/Music/Stage and the latest "Life is Beautiful" comic.
Shipping is included in the price.