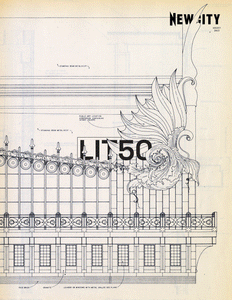 August 2023 Issue: Lit 50 (Print Edition)
Regular price $12.00 Sale
The Choreography of an Exhibition
Curator Carla Acevedo-Yates discusses her path to "Entre Horizontes" at the MCA
"Carla Acevedo-Yates, the Marilyn and Larry Fields Curator at the Museum of Contemporary Art Chicago, credits artists for inspiring her career. 'Artists are my teachers,' she says, 'All of my ideas come from my long-term dialogue with others and especially artists.' Growing up in Puerto Rico, Acevedo-Yates was surrounded by an art world markedly different from the one she finds herself in today. Art was not scarce, but the infrastructure was fragile, comprised primarily of DIY and artist-run spaces, with galleries often found in unconventional spaces such as shopping malls."(Jennifer Smart)
No Sanctuary
Are historic churches the lost souls of a city?
"Seen on a gray, rainy morning, St. Adalbert Church in Pilsen looks haunted. Scaffolding wraps its 185-foot-tall Baroque towers like a parasitic plant. At the church entrance, eight rose-colored granite columns are blocked by dirty plywood, on which are hung Polish and Vatican flags. Behind the plywood, someone has pitched a tent—the only comfort currently offered by the 109-year-old building. St. Adalbert's is a symbol of a looming aesthetic disaster in Chicago—the closing and possible demolition of historic churches." (Mary Wisniewski)
The Lit 50 2023
Who Really Books in Chicago
These twenties are roaring with a different clamor than the last decade to follow a global pandemic, at least in arts and letters. What does the advent of artificial intelligence mean for the future of human creation, or even existence? What will come out of the other side of the biggest Hollywood strike, encompassing both writers and actors, in sixty years? And does technology portend the body public succumbing to a body electronic? (Brian Hieggeke)
Arts & Culture
 Art: Amber Ginsburg upends the kingdom
Dance: Muntu Dance Theatre celebrates "Lineage"
Design: A conversation with Isaac Couch about his fashion art
 + Mood: Beach Essentials
 Dining & Drinking: Sandwiches of summer 
Film: Ira Sachs' Passages is his most European film
 Lit : Roger Reeves talks about his new book, "Dark Days: Fugitive Essays"
Music: The sisters in Neptune's Core defy expectations
Stage: How  the Albany Park Theater Project uses immersive theater to explore the immigrant experience
Reviews
Something to see, something to read, something to watch
Poetry
"How To Time Travel"
A new poem by
Timothy David Rey
84 Pages
Shipping is included in the price.