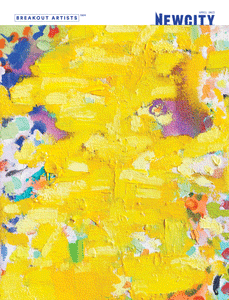 April 2023 Issue: Breakout Artists (Digital Edition)
Breakout Artists 2023
The next generation of image makers
"Twenty years ago this spring, Newcity launched its first Breakout Artists edition, working with no mandate other than to champion emerging creative forces before the culture-at-large. The world tends to celebrate its prominent artists so vigorously that it's easy to overlook the fact that thousands of artists do their work in relative anonymity in careers driven more by muse than purse. By shining a light on a handful of artists we think most promising today, perhaps we can make a small difference at a time when it's needed most." (Brian Hieggelke)

The 2023 Breakout Artists
Ále Campos
Maggie Crowley
Erol Scott Harris
Janelle Ayana Miller
Laleh Motlagh
Elsa Muñoz
Ruby Que
Moises Salazar
Farah Salem
Kushala Vora
+ A year-by-year list of Breakout Artists, all the way back to 2004
+ Cover by Roland Santana (Breakout Artist 2022) 
Beauty or a Beast?
What the Fight to Save a Building Means for the Future of Joliet—and for a Vital Architectural Movement Worldwide
"The building that commands a low hill near the center of Joliet's downtown stirs a mix of strong emotions among locals who grew up near its formidable physical and psychic presence. Passions are especially high lately. A wrecking ball may soon swing through the now-empty 1969 courthouse, obliterating one of the region's first Brutalist structures." (Ted C. Fishman)
 An Artistic Project
Portable Gray at Ten (Issues)
"When founding editor-in-chief Zachary Cahill and the University of Chicago's Gray Center for Arts & Inquiry launched Portable Gray in the fall of 2018, they were aiming to chronicle what Cahill describes as a "renaissance moment" in Chicago. Pointing to the presence of internationally recognized artists such as Theaster Gates, William Pope.L and Jessica Stockholder, to name a few, Cahill recalls meeting with international curators who were traveling to the United States with the sole aim of visiting Chicago. As the second decade of the twenty-first century drew to a close, it seemed the rest of the world had started to recognize the significance of what was happening on the city's South Side." (Jennifer Smart)
Cross-Cultural Existence
A Return to Mona Hatoum at the MCA
"Twenty-five years ago, in 1997, The Museum of Contemporary Art Chicago gave Mona Hatoum her first solo show in the United States. And now the MCA returns with "Mona Hatoum: Early Works," an overview of her video and performance works made throughout the 1980s. The exhibit will bring together well-known works, such as "Measures of Distance" (1988), with less frequently exhibited pieces, creating a space dedicated to the beginning of this prolific artist's career." (Ryan Fazio)
Arts & Culture

Art: A visit to the 21c Museum Hotel collection
Dance: Four new works by Chicago Repertory Ballet Founder Wade Schaaf

Design: René Romero Schuler collaborates with Erin Minckley's Relativity Textiles
+ Mood: Planters and Pots
Dining & Drinking: Mile-High Strawberry Pie
Film: Ebertfest ten years along
Lit: From Bourdieu to Buffy to Organizing with Clément Petitjean
Music: What is Lingua Ignota?
Stage: Robert Falls on "The Cherry Orchard"
Reviews

So much to see, so little time
Comics
The 29th: A new comic by Abby Jo Turner
Poetry
Hostile Architecture: 
A new poem by Rebecca Morgan Frank

100 pages