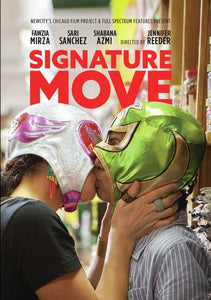 Signature Move DVD
Regular price $11.99 Sale
Newcity's very first film!
PRICE INCLUDES SHIPPING in USA!
In Chicago, Zaynab (Fawzia Mirza) is a thirty-something American-Pakistani lawyer who lives with and cares for her recently widowed, TV-obsessed mother (legendary Indian actress Shabana Azmi). Alma (Sari Sanchez) is a free-spirited Mexican-American bookshop owner. After meeting in a bar, the two quickly fall into bed with each other and embark on a romance...but problems aren't far behind. Zaynab's traditional mother still expects her daughter to marry a man, while Alma finds herself reluctant to get involved with the closeted Zaynab, leaving them at odds despite their strong attraction for each other. And then there's Zaynab's latest interest: training in Lucha-style wrestling with a former pro grappler! Winner of the Grand Jury Prize for Best US Narrative Feature at Outfest and a worldwide festival darling following its SXSW premiere, critics and fans alike agree on the film called "a gem" by the Chicago Sun-Times.
Directed by Jennifer Reeder.