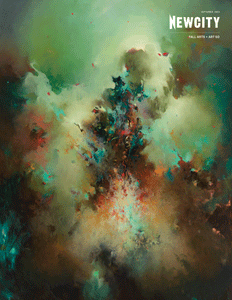 September 2023 Issue: Art 50 + Fall Arts (Print Edition)
Regular price $12.00 Sale
The Privilege of Walking and Writing
A journey down the street and across the world
"I urge my students to bring along actual bits of language when they walk. One week I recommend a quote from Rachel Cohen, who in her essay, "On Jane Austen's Politics of Walking," writes how while walking, we draw our worlds and ourselves together. In one way or another, all walking writers strive for this integration of self, experience and world." (Dina Elenbogen)
The Art 50 2023
Chicago's Artists' Artists
"What struck me was that every single artist seemed to know and care about every single other artist, with conversations keeping them in the space and even out on the sidewalk in front long beyond their appointed times. This is a signature element of art in Chicago—a powerful sense of community that transcends the competitiveness and careerism that undermines other places." (Brian Hieggelke)
Fall Arts Preview 2023
After the Bombs
Bassim Al Shaker paints from experience in a war zone
"Since the artist was selected to participate in the Iraqi Pavilion at the 2013 Venice Biennale he has carried the themes of his home region with him, and his new work continues to translate the creative energy that A
l Shaker generates from his experiences. "I'm painting a bigger picture of what's happened to me and millions of people in Iraq," he says."
(
Ryan Fazio
)
+ Can't Miss Fall Art Events 
Jerry and Mr. Joffrey
Celebrating Gerald Arpino, co-founder and "Architect of the Dancers" of one of America's premier ballet companies
"

The proliferation of Joffrey alum in the highest ballet positions (as it were) may have something to do with Arpino's collaborative approach to choreography—now fairly common, but a rarity at the time."

 (Sharon Hoyer)
+ Can't Miss Fall Dance Events
Question Everything
How David Allen creates Instagrammable Wndr Museum experiences without selling his soul
"In an in-depth conversation, David Allen, the world-renowned tattoo artist who serves as the WNDR Museum's chief creative officer, provides insights into the powerhouse Kusama's recently debuted second exhibition, "Dots Obsession," in the age of the selfie and shares his personal journey. "(Vasia Rigou)
+ Can't Miss Fall Design Events
Going South And Upward
A conversation with Chicago Underground Film Festival's Bryan Wendorf about an organization on the move
"Bryan Wendorf, artistic director of the Chicago Underground Film Festival, has just turned sixty and has been looking back, but also forward as the scrappy effort, the oldest underground festival in the world, turns thirty, pivots to its own nonprofit status, and makes a move from its ten-year home at Logan Square's Logan Theatre to the newly refurbished 107-year-old Harper Theater in Hyde Park." (Ray Pride)
+ Can't Miss Fall Film Events
From Dust to Stardust
The dizzying and dazzling literary life of Kathleen Rooney
"It's difficult to think of a contemporary writer more skilled and steadily productive in a dizzying number of literary modes than Kathleen Rooney. Among her many books as writer, editor or co-editor are the X.J. Kennedy Poetry Prize-winning collection 'Where Are the Snows,' the novels 'O, Democracy!,' 'Lillian Boxfish Takes A Walk,' 'Cher Ami and Major Whittlesey,' and works of nonfiction, 'René Magritte: Selected Writings,' 'Reading With Oprah: The Book Club That Changed America,' and 'For You, For You I Am Trilling These Songs.'" 

(Christine Sneed)
+ Can't Miss Fall Lit Events
Soul Music Supernova
The unforgettable but almost forgotten saga of Maxx Traxx
"Should you believe that soul is an expression of freedom, spirit and wisdom, there was no more important 1980s soul band in Chicago than Third Rail. Their ride was short but fierce and significant. The multiracial band formed in 1979, broke through color lines on North Lincoln Avenue, navigated record-industry shenanigans, and performed before 25,000 people at the 1982 ChicagoFest on Navy Pier…"

(Dave Hoekstra) 
+ Can't Miss Fall Music Events
A Safe Space
How Martyna Majok channeled her immigrant struggle into playwriting success
"When Martyna Majok first wrote a play in high school, she had never seen one. 'I understood it as a movie you didn't have enough money to make,' she says. 
But the play won a New Jersey statewide contest. Majok went on to study theater and playwriting, first at the University of Chicago, then at Yale University's School of Drama and the

Juilliard

School. She won the 2018 Pulitzer Prize for Drama for her play 'Cost of Living.'

 (Mary Wisniewski)
+ Can't Miss Fall Stage Events
Arts & Culture
Film: Life, movies and Uptown's Hurricane Billy

Art: Looking at the art matchmaking of "Not Just Another Pretty Face"
Dance: Harris Theater celebrates twenty years
Design: The architectural anthropology of Rathin Barman
+ Mood: Stools
Dining & Drinking: Playfulness and spontaneity, on the walls and on your plates at Esmé
Lit : Scott Berg talks about "The Burning of the World: The Great Chicago Fire and the War for a City's Soul"
Music: Philip Glass composes a new work of friendship for Muti and the Chicago Symphony
Stage: Kokandy brings back the storefront musical with "American Psycho"
Reviews
We're just warming up for fall
Comics
Still Here, Still Weird: A new comic by Anya Davidson

Poetry
Solitude Breaks: A new poem by Dipika Mukherjee
164 PAGES
Shipping is included in the price.
Never miss an issue!