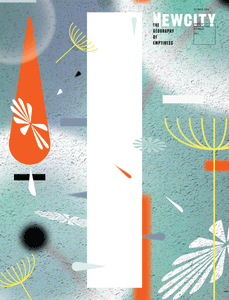 October 2021: Chicago Architecture Biennial
Regular price $10.00 Sale
Reclaiming Monuments 
Richard Hunt Memorializes Ida B. Wells' Activism in Chicago
"The 'Light of Truth,' constructed by one of Chicago's most revered sculptors, Richard Hunt, stands thirty-five feet high and weighs 14,000 pounds. An abstract figure of shining, light bronze standing on three columns, the 'Light of Truth' is a twisting, open, torch-like configuration over levitating stair steps. Standing under it gives a sense of its stature: the average person comes up to about a third of the height of the base. Installed in the Bronzeville neighborhood, the monument sits where Wells-Barnett made her impact on Chicago in the late 1800s and early twentieth century." (Yvonne Krumrey)
The Geography of Emptiness
Newcity Explores the 2021 Chicago Architecture Biennial
"The launch of the fourth edition of the Chicago Architecture Biennial marks a shift in the program's spatial and ethical concerns. As in previous years, the Biennial is primarily a showcase for ideas about design and architecture—an odd but rich mixture of design geekdom and glamour. But what distinguishes this Biennial from earlier editions is its insistence on a social agenda in a city where, as artistic director and architectural scholar David Brown contends, 'current and past inequities are made clear through the urban landscape in this stark contrast between development and underdevelopment, investment and disinvestment.'" ( Kekeli Sumah and F. Philip Barash, guest editors)
Welcome to "The Available City": What To Know And Where To Go For the 2021 Chicago Architecture Biennial

By Tanner Woodford

What is Available? Seeing 125 Million Square Feet of Chicago

By Heidi Metcalf

A Shot in the Arm: Temporary Interventions Can Be Long-Term Investments In Neighborhoods

By Ernie Wong

Robot Ballet and Urban Scale Paintings: Outpost Office See Midwestern Landscapes as Both Resource and Inspiration

By Sarah Herda

The Future Is Shared: Restitution and Reparations in Englewood

By Aaron Rose

Rising From the Earth: Soil Lab Uncovers Layers of Chicago Histories

By Joel Kuennen

Vacant Still?

Photo essay by Biyun Feng

Altgeld's Tactical Gardens: Lessons to Learn from People for Community Recovery

By Alberto Ortega Trejo

Is There a Hippocratic Oath for Architects?: A Conversation With Hip-Hop Architecture's Craig Wilkins

By Marisa Novara

Against the Biennial Industrial Complex: "The Available City" Is Chicago's Anti-Biennial

By Cecília Resende Santos
Faker
Be careful what you lie about
An original six-page, print-exclusive comic by John Sammis.
+ Print exclusive: A "mood board" of storage furniture from local designers and boutiques. 
Arts & Culture
Art: Toward Common Cause shows how art responds to crises
Dance: The Seldoms go leafy green
Design: Inclusivity, ethics and thoughtful designs are at the core of All We Remember
 Dining & Drinking: Melty cheese curd recipes have ancient origins
Film: Why can't dreams
Lit: Jonathan Franzen's Midwestern ethos
Music: Macie Stewart draws art from isolation
Stage: Joshua Allen's "The Last Pair of Earlies" chronicles the struggles of the Great Migration
Reviews
Because there is, finally, so much to choose from.
Shipping is included in the price.



(If you do so by September 23, 2021, this will be your first issue.)