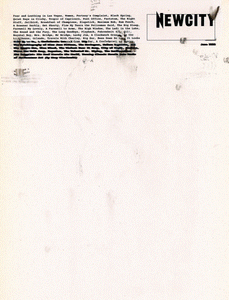 June 2022 Issue: Novels (Print Edition)
Regular price $10.00 Sale
Frida's World
An exploration of the iconic artist through photography
In "Frida Kahlo: Her Photos," on view at the National Museum of Mexican Art, more than 200 personal, unpublished photographs from Frida's archive show the development of the artist's identity, her personal interests and how the medium influenced her painting. Upon Frida's death, her husband—artist Diego Rivera—made plans to donate her house and belongings so they could be preserved as a museum. One provision was that many of their personal effects remain locked away for a number of years following his death. So it was that these photos, and many other items, were not unearthed until 2003. (Kerry Cardoza) 
The Retypist
Tim Youd turns classic novels into performance art
Youd needed to get the right typewriters for his "100 Novels Project." For the last ten years, he has been on a quest to retype one-hundred English-language novels from the last century, when typewriters were regularly used. He retypes each novel on the same make and model of the machine used by the author, in public, in a location with significance to the book. The project has taken him all over the United States and Europe—a library in Dresden, Germany for Kurt Vonnegut's "Slaughterhouse-Five;" a decommissioned Sing Sing Prison guardhouse for John Cheever's "Falconer;" the sidewalk in front of Marie's Crisis Café in New York City for Patricia Highsmith's "The Talented Mr. Ripley," etc. (Mary Wisniewski)
From Biddy's to Billions
Lessons learned owning a once-iconic Chicago music club 
I wrote about Biddy's a lot for the Chicago Sun-Times. I knew some of the guys in Big Twist and the Mellow Fellows, the underrated soul music outfit that recorded a 1987 live album for Alligator Records in the club. My friends Mike Jordan and the Rockamatics played Biddy's. On one Saturday afternoon in the early 1980s, when I was living in pre-gentrified Wrigleyville, the old bus belonging to Texas swing fiddler Clarence "Gatemouth" Brown broke down in front of my apartment. I gave Gatemouth a ride to Biddy's. Somehow Biddy's was always in my blood.
The incongruity of Biddy's remains irresistible to me. (Dave Hoekstra)
Crude
A life lived in oil's shadow by Mike Centeno
Arts & Culture

Art: Alexandra Antoine makes connections from the African Diaspora
Dance: The Fly Honey Show takes over Thalia Hall
Design: be HUE connects interior design, architecture and wellness
 + Mood: Mirrors
Dining & Drinking: VietFive Brings true Vietnamese coffee to Chicago
Film: Flux Gourmet is the latest from the wizard of weird
Lit : Toya Wolfe finds moments of joy in "Last Summer on State Street"
Music: The Aluminum Group is back for another round
Stage: The story behind Natalie Moore's playwriting debut, "The Billboard: A Play About Abortion"
Reviews

A great way to spend a month
Poetry
THE RADIOLOGIST SPEAKS AND DOESN'T: 
A new poem from S.L. Wisenberg

68 pages
Shipping within the United States is included in the price. For Brazil, add $20 for international shipping.

To subscribe to our print edition and never miss an issue, click here.