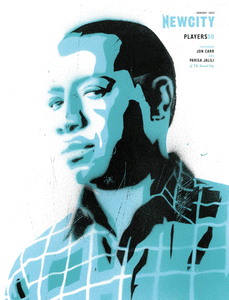 January 2022 Issue: Players 50 (Print Edition)
Regular price $10.00 Sale
WORK IN PROGRESS
Eighteen Months Ago, Woman Made Gallery Started An Overhaul in the Wake of a Racially Charged Unraveling
"Pitts also knew the pitfalls of trying to steer an organization into a place of inclusion without support from the top level. After getting to know the board, she again made her commitment to intersectional feminism clear. To Pitts, this meant 'asking questions about how work gets done, and who gets to hold power in decision making.' Some members left. 'They were exhausted, they had been through a very traumatic experience,' Pitts says. 'They left because they couldn't see themselves growing with me and the new vision of the organization.'" (Parker Yamasaki)

THE PLAYERS 2022 
The fifty faces in theater, dance, comedy and opera that you need to know
"In our return, the return of the Players 50 list, we tried to honor those who came back, who've already been putting shows on stages, while crossing our fingers that those we've not heard from are just around the corner. • We tried to honor many of those who turned the pandemic into a pivot, and filled the shutdown with their art, via streaming that we could watch from our own shut-in homes. And those who had the expertise in the medium of video and broadcast to help them achieve it. • And we especially tried to honor those who helped so many get through, with financial support, with community activism, with whatever it took, with whatever they could."
+Players Hall of Fame
PLAYERS OF THE MOMENT
Jon Carr and Parisa Jalil have Second City laughing again
"A little over a year later, The Second City is back in operation, with deep-pocketed new out-of-town owners—the private-equity group ZMC—and new leadership here in Chicago. And while the facilities in Old Town and the shows on its stage might seem pretty much the same, the organization is in the midst of profound changes. Overseeing all of this are chief operating officer Parisa Jalili and executive producer Jon Carr." (Brian Hieggelke)
+ Print Exclusive
A "mood board" of accent tables from local designers and boutiques. 
Arts & Culture
Art: Andrea Bowers and her activist art
Dance: Chicago Human Rhythm Project takes on the Mayfair Arts Center
Design: Outsider Supply creates wearable art
Dining & Drinking: Avli on the Park is so Greek
Film: The song of professionalism, the ring of confidence
Lit: Bill Savage discusses "Chicago: A Literary History"
Music: The worlds in Missy Mazzoli
Stage: Catch your breath with the Chicago International Puppet Theater Festival
Reviews
A carefully curated selection for print



Shipping is included in the price.